---
Crime & Wine
with Lizzie Enfield and Graham Bartlett
Introduced by Howard Corney
Friday November 18th 2022 6:30pm
---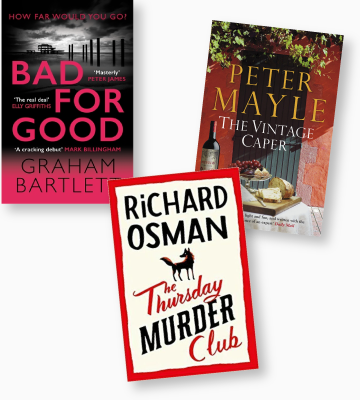 If you came to our first literary evening in July you'll know that we had a lot of fun with Lizzie Enfield discussing three books with a theme of wine and words. If you thought it was just an excuse to have a glass or two of Court Garden Classic and some gossip over some little eats in the interval, you may very well have a point, but really it was great to hear perhaps a different slant on a book you already knew or be introduced to an author you had not met.
The fact we raised £1,000 shared between the Red Cross Ukraine appeal and Alzheimer's Research UK, has to be a bonus.
Lizzie has come up with a theme of Wine and Crime for our second evening of bookish chat. There is no doubt that from the wine sipping members of The Thursday Murder Club or the great wine heist of the Nappa Valley, to the woman who gave her philandering husband's wine cellar to the neighbours – wine and crime make for excellent pairings.
This time Lizzie talks to Graham Bartlett, a former police detective and now a crime fiction writer himself as well as an advisor to authors and TV writers. He was named as being a Sunday Times best-selling writer with his debut novel Bad for Good.
Lizzie will talk about crime in literature with some extracts read for us possibly including: Peter Mayle's The Vintage Caper, about a wine heist; Graham Bartlett's Bad for Good set uncomfortably close in Brighton; and Richard Osman's The Thursday Murder Club.
After the interval Graham will tell us how his experience as a police detective has been transferred into his and other authors novels.
Tickets are available below, click the button then adjust the quantity required in the shopping basket. Included in the price is a welcome glass of Court Garden Classic Cuvée and some finger food in the interval. We do hope you can join us.
---
Tickets £20 includes a welcome glass of Court Garden Classic Cuvée, plus finger food in the interval.
Please note: actual tickets are no longer sent, but you will receive an email confirming your booking and your name will be on a list on the door.
---
All proceeds will be shared between Alzheimer's Research UK and the British Red Cross Ukraine Crisis appeal.

---
The bar will open at 6:00 pm and it is planned the event will finish at 8:00 pm